2015 Series (turn 350) - part 2 - France
Cities come into being for various reasons. Some are carefully planned and settled. Some grow around older villages or military forts. Some owe their existence to great migrations, peaceful or otherwise.
Some, like Perpignan, just happen. Certainly there were no plans for it when, not many years after The Cataclysm, the Encore Syndicate funded the huge engineering project that cut the French continent in two pieces by the means of a wide channel, connecting the North and Arctic seas, for the first time in history allowing a sea vessel to travel between French west and east without going around the whole Egypt. In the country that was still reeling after the global disaster, it seemed like a colossal waste of scarce resources. For the Syndicate, it seemed like a golden opportunity that won't happen again, a building block on their way to dominance. As the years went by, the place became one of the most important crossroads in the whole world, and certainly the most important - and profitable - in France. The subsequent creation of the Paris-Nice railway only added to this importance, as the Syndicate controlled its crossing over the channel. But with all that grand scale activity, there was no effort whatsoever to control the growing masses of humanity, lured to tie their fate to this place. As they grew into millions, some haphazard city infrastructure grew as well, but with little care or help shown by the government, much less the Syndicate. They just kept raising the walls around their precious and sprawling cargo terminals, and adding more armor and security to their vessels.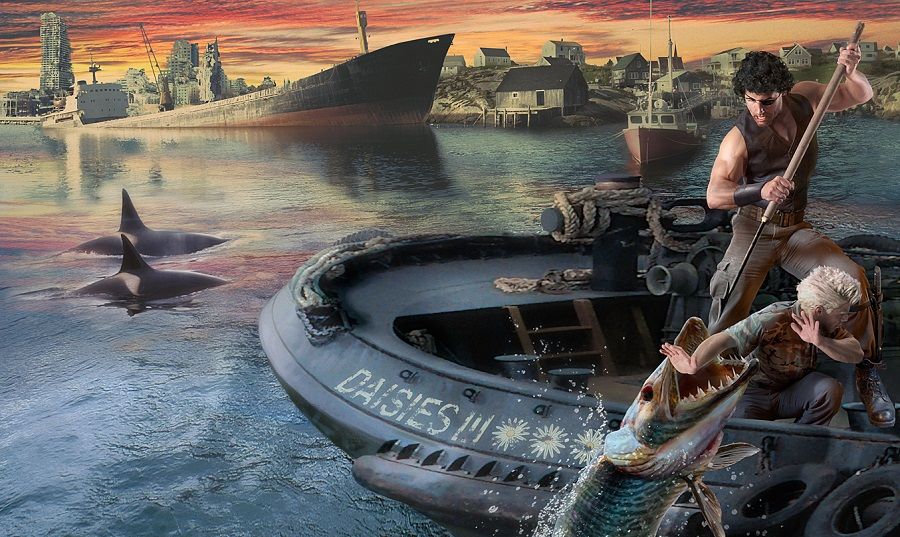 That peculiar combination of major money flow, people turnover and little control, which tends to spring up on the great crossroads between empires and draw all the scum of the earth, made Perpignan a perfect place to set up business establishments that belonged to gray (or straight black) area of economy - were it drug factories, illegal servers, arms dealers, and, since the technology became widespread in the 1970s, body chops shops, where the only limit on the cybernetic augmentation was the size of customer's purse.
The Old Man was running one of the latter for the last twenty-six years. Certainly not the first establishment of this kind, but his old contacts in British corporations, and even older ones in the Egyptian military ensured it was one of the most renown. The fact of its continued existence spoke for itself, in this new age of unprecedented corporate control when even Perpignan lost much of its outlaw charm and bullet-riddled freedom, and only the best were still able to stay afloat.
But even so, it was still Perpignan, so the Old Man wasn't much surprised by the noise of a violent shootout, apparently happening just outside his shop. He just straightened in his chair, his tired eyes reflecting greenish haze of his personal computer, and took a drag from a respirator. In this world, with the kind of money he possessed, a man could be perfectly healthy at his age of 90, but with his constant intake of cigarettes and brandy he was determined not to make it too easy for his doctors. He was still at his book-keeping when the doorbell announced appearance of a customer. The Old Man glanced at the camera screen, frowned deeply and opened the armored door only after a long moment of hesitation. Nano-sniffers didn't pick up any trace of a bomb, and the high amount of metal inside his guest's garments - and body - was only to be expected, but it's been a long time. Perhaps too long.
The athletic woman, dressed in a long, blue coat entered the wide open area in the centre of the warehouse. Its owner sat comfortably in the darkness, his hand on the trigger of multiple glue guns and ion zappers hidden in the walls. The kind of customers who visited this kind of places were often prone to troublemaking. The woman smiled and said lightly:
"Hi there, old man! Remember me?"
"Bleached hair and an old face, but the same bad taste for clothing. What the hell are you doing here. You're far past your expiry date."
"Look who's talking. This place itself looks expired. Back in the nineties, it was bustling with activity. I remember these days of 93... Fifteen years old, prime age and prime reflexes, yearning for cash to get best of those new neural-interface-implants and opportunity to become a legend. And there were so many like me. Hit and run operations, corporate warfare, assassinations..."
"Nineties are long gone, and so is your value, Nastassia. Got bored? Tired of life? I knew a girl like you once, you know."
"Man, are you up for another glorious 1970s talk? I know all these stories through."
"Just to make you understand that business moves around. Places like Perpignan rise out of nothing, sometimes last years, some decades, some centuries, but inevitably fall. Back then it was British Petroleum where the action was. We had a hovertruck and all the freedom from this damned world a mercenary can have. We were the best. But the changing times caught up to us. Shouldn't have stayed there after the war, after the Japan guy got back to his country and probably got himself killed. Maybe at least Revy would still be alive."
"She was stupid to go against the RUNE's", shrugged Nastassia.
"Hey. She was the probably the last, best fully natural gunslinger in history. She was just too proud to acknowledge our time has ended. That the easy money had evaporated and the rest was no longer contested by assorted thugs, drug gangs and uniformed idiots, but by killer cyborgs straight from the frontlines. The same mistake you seem to be doing now."
"Natural my ass. Being born in 1950s Bhubaneswar, I am sure she was gen-modified. I'm just more hi-tech then her. But naw. I know that my metal is no longer hot, bionantech agents are what's hot, the next generation, these kids are faster, stealthier, more flexible, and do not burn out as quickly. New computronium that allows a peanut-sized drone brain be as smart as a human. And the Senso-Net, it was launched in 1999 but it took some time for most of the population, from scrawny gangers to corporate whores, to move to this better world. Maybe if I was upgrading myself to become a netrunner instead of a combat specialist, but even then... The net appeared so vast and infinite in my youth, but it was a mere pond compared to the ocean of today, an ocean ruled by intelligences vast beyond human understanding. ECCN, Earth-crust-computation-net, man. Who knows what horrors lurk within? Certainly more than a girl who was born and raised in this physical reality can handle. So, by the way, what happened to the last one of your gang? The Paris guy?"
"He moved to Senso-Net too, apparently disappointed that the world is turning after the Apocalypse came and went... And you? What have you been doing for the last ten years? Slaving at some burger joint?"
"Japan."
"What's there?"
"Oh, plenty of sighteseeing... I've been travelling along that 8000-km long maglev Egyptians build, bumming about... Actually, I was honing my gift."
"Gift?"
"The thing that makes us French better than you Egyptians, remember? The divine gift. Away from any gods, I could hone my supernatural sense to a keen edge."
"What the hell are you talking about."
"The last big one," said Nastassia, smiling and putting a briefcase on the table. "Here are the specifications for upgrades... and the cash."
The old man shot her a glance, opened the briefcase and perused through its contents. "A strange manhunting outfit... both ridiculously overengineered and primitive. Smells like you are intending to blend in with the primitive Indian technosphere... What the hell is in India? Moving to the as*hole of the world, where your old hardware and slackened reflexes would still be enough to get a piece of the action?"
"Cannot tell," she smiled again.
"Yeah, yeah. And with this credit card... Far too clean and innocuous to be anything else than a top-level ops... The last big one... What have you gotten yourself into, Nastassia?"
"Something you can't possibly imagine, old man."